Support our effort to fight terrorism. Contact us to become a member (free membership is available), receive free informational CD and take the pledge against terrorism!


The pledge against terrorism:

As a member, I accept the Pledge Against Terrorism as follows:
I pledge to fight terrorism by:
1. Sharing the Voices Against Terrorism self-education kit with 3 people and encouraging them to take the pledge.
2. Writing one letter in the next 3 months to the media and one to my elected representatives to voice my opinion regarding the fight against terrorism.


VAT's defintion of terrorism is:
Terrorism is the use of violence to target innocent civilians to promote a political, religious, or ideological agenda.


Fighting Terrorism:
VAT supports the war on terror by educating the public on the urgent need to eliminate terrorism through economic, diplomatic or military means. We fully support the U.S. Counterterrorism Policy (Source: The U.S. State Department) as follows:
First, make no concessions to terrorists and strike no deals;
Second, bring terrorists to justice for their crimes;
Third, isolate and apply pressure on states that sponsor terrorism to force them to change their behavior; and
Fourth, bolster the counterterrorism capabilities of those countries that work with the U.S. and require assistance.


Here we might include a list of names of some of the people who run our organization. We might also include a picture and brief description of their background and interests. For example:
*** Under Construction *** We are looking to recruite a well-known spokeperson such as: Mayor Rudolph Giuliani.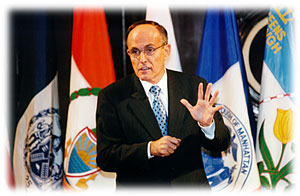 *** Under Construction *** Mayor Rudolph Giuliani is known for his leadership in fighting terrorism...